Raffle winners at Our Annual Salad Luncheon Raffle held on August 11, 2021:
St. Michael the Archangel statuary donated by Layna Beer      Thelma Ely
Scentsy candle basket donated by Dola Mehsling                     Kathy Carlin (member)


S

E

P

T

E

M

B

E

R

2

0

2

1



GIK COLLECTION THIS MONTH'S MEETING IS FOR Joshua House – Personal care items:
Travel Toothpaste, Travel Shaving Cream, Travel Deodorant, Razors, 15 Q-tips in individual baggies, towels and washcloths.
Men's boxer shorts (Med or Lg), Men's socks, Men's t-shirts, Men's Belts, Men's shoes, backpacks.

---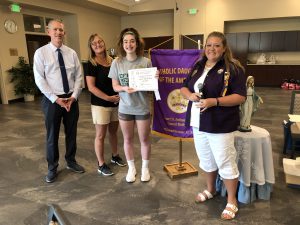 Congratulations to St. Albert Junior Mia Allmon,
3rd Place Winner in Division III Art at the National Level of the Catholic Daughters Education Contest begun in March of 2020. Presenting her award is State of Iowa CDA Secretary Julie Marlow. Cheering for Mia are
(L) Kevin White, Director of Advancement at St. Albert
and Mariann Hilderbrand, Chair of the annual Education Contest of Court St. Anthony #330. Mia won 1st Place at the local level, then 1st Place at the State Level and then this 3rd Place at the National Level of the organization for her beautiful drawing of a mother and child. We are so proud of you Mia!
————————————————————————————————————————————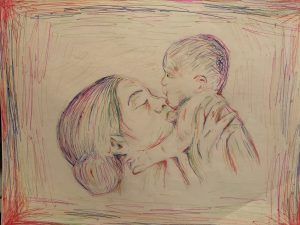 This is Mia's drawing that was done for the art portion of the National CDA art contest and judged against hundreds of others in her age group. Such a touching scene in ball point pen of various colors.
The themes in 2020 Education Contest were:
"Blessed are the Peacemakers" and
"Living with Others in Harmony."
———————————————————————————————————————————-__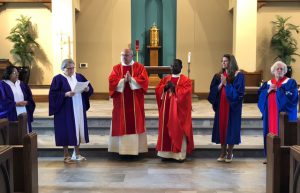 Court Officers install Deacon John Pfenning of St. Patrick Church, as new Chaplain of Court St. Anthony #330 on Monday, June 28, 2021. (L) Vice Regent Felicia Davidson, Regent Carol Hollenbeck, Deacon John, Fr. James Ahenkora (Pastor), Angie Shea Recording Secretary and Jan Roth, Treasurer. Welcome Chaplain Deacon John! Thank you and Fr. James for your support!
———————————————————————————————————–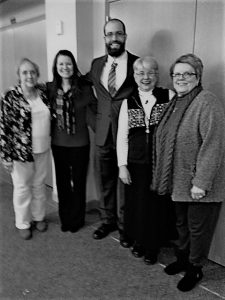 We have prayed for and supported our Court's Seminarian for years. Here are some members with him on December 18, 2016. (L) Kathy Carlin, Angie Shea, Rita Hughes and Carol Hollenbeck. We were in Des Moines for an ordination and got to visit with the man who we now WELCOME AS FR. JACOB EPSTEIN! He is assigned to Corpus Christi Parish in Council Bluffs. We will continue to pray for him as he enters his ministry in our community. He told me he will come to a meeting and asked for our continued prayers.
We will also pray for Fr. Max Carson, who is now serving in St. Patrick Parish. We are so blessed by Bishop Joensen to have these two priests here with us. AMEN
———————————————————————————-
A Prayer for the Sick – please pray with us….

We THANK YOU for the people tasked with studying the nature of the COVID-19 virus and their success in creating vaccines. We are grateful for those who are delivering these medications to the World. We are grateful for the medical warriors who continue to labor in search of bringing comfort and saving lives.
We pray for those afflicted with long term effects and all those who lost their lives due to this pandemic.
Grant us the grace to do our part and work for the good of all and to help those in need. We owe our very existence to your Grace and Provision.
We thank you Father, ahead of time, for all your blessings. We pray in the name of our Lord Jesus Christ, Your Son, who lives and reigns with You, in the unity of the Holy Spirit, God forever and ever.
 Amen†
———————————————————————————————————–


Mission
Catholic Daughters of the Americas strives to embrace the principles of faith, working through love in the promotion of justice, equality and the advancement of human rights and human dignity for all.
Motto
Unity and Charity
Purpose
As the largest organization of Catholic women in the Americas and founded through the Knights of Columbus Catholic men's organization, our purpose is to participate in the religious, charitable and educational Apostlelates of the Church.
Contact:
Carol Hollenbeck, Regent
402-350-3834