2022-2024 Court Leadership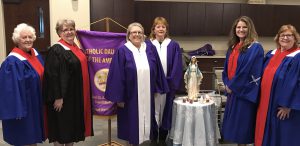 (L) Treasurer Jan Roth, District Deputy Terri Dynek, Regent Carol Hollenbeck, Vice Regent
Petra Lincoln, Recording Secretary Angie Shea, Financial Secretary Dola Mehsling.
  We, the elected officers of Court St. Anthony #330 freely assume the responsibilities entailed by holding office in this court. Further, we promise to act together in harmony and cooperation with one another and  with those in authority at the state and national levels  of the order. In this resolve,  we humbly ask the divine help of the Holy Spirit of God.
Officers