Click here:   Next CDA Meeting
                                FEBRUARY 2023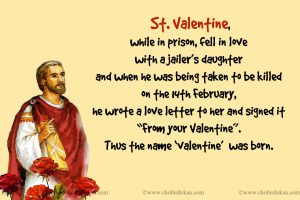 ________________________________________________________________________________
COME TO A COZY SOUPS & DESSERTS LUNCH
YOU ARE INVITED TO ENJOY A MIDWINTER WARM-UP OF HOMEMADE:
CHICKEN NOODLE, CHILI OR BROCCOLI CHEESE SOUP
FRENCH BREAD
TOP IT OFF WITH A HOMEMADE:
SWEET DESSERT
COFFEE OR TEA
THURSDAY, FEBRUARY 16, 2023
ST. PATRICK SOCIAL HALL – 4 Valley View Drive, CB, IA 51503
11:00AM – 2:00PM
COST $10
(PRICE INCLUDES TWO FREE RAFFLE PRIZE* TICKETS)
Prepared and served by the Catholic Daughters® Court St. Anthony #330.
All proceeds go to our charitable donations.
*Must be present to win.
————————————————————————————————————————————–________________________________-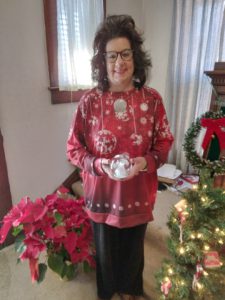 Member Mary Sue Wickham displays gift for her mother Mary Alice.
Home bound Members Receive Glowing Christmas Angels
as Christmas gifts from the Court.  (Not pictured, Member Mary Roush.)
---
A BIG THANK YOU TO ALL 110+ GUESTS AT OUR JULY 13TH SUMMER SALAD LUNCHEON FUNDRAISER AT ST. PETER SOCIAL HALL! HERE ARE A FEW PHOTOS FROM THAT EVENT…..







———————————————————————————
COURT CONSTRUCTS "MARY GARDENS" AT RECENT MEETING FOR OUR SPIRITUAL ENHANCEMENT AND THOSE OF OUR HOME BOUND MEMBERS.




———————————————————————————————————————–
Delivered to our precious members by Financial Secretary Dola Mehsling

_______________________________________________________________________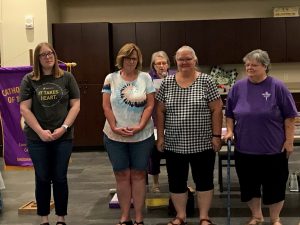 OUR NEWEST MEMBERS. WELCOME!
(L) Matalyn Sebetka, Kathi Markel, Kris Reicks & Debi Wheeler 6-27-22

WELCOME TO ALL AND GOD BLESS YOUR SERVICE!
———————————————————————————-
MISSION
Catholic Daughters of the Americas strives to embrace the principles of faith, working through love in the promotion of justice, equality and the advancement of human rights and human dignity for all.
Motto
Unity and Charity
Purpose
As the largest organization of Catholic women in the Americas and founded through the Knights of Columbus Catholic men's organization, our purpose is to participate in the religious, charitable and educational Apostlelates of the Church.
Contact:
Carol Hollenbeck, Regent, Web Manager
402-350-3834