Irene Schlautman
Member since January 13, 2001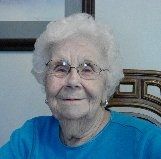 By Carol Hollenbeck, Web Manage
r
Irene was born in West Point, Nebraska. Her farm family also included one brother and three sisters.
Irene and Vic were married on February 9, 1943, farmed in Nebraska, and later moved to Waterloo, NE. Her husband went into the gas business and was transferred to Council Bluffs in 1957. The Schlautman's have attended Queen of Apostles church ever since. Their family was blessed with six children, four boys and two girls. Today the family includes 13 grandchildren and 17 great-grandchildren, plus many step-grands and greats. It is interesting to note that all six of the Schlautman children still live within three miles of their parents and all six families attend Queen of Apostles church. A remarkable achievement in today's mobile society!
Years ago Irene served as one of the first officers of the Rosary Society at Queen of Apostles. She became involved in sewing children's clothes for a fashion show the group was sponsoring. Her work on that project began her life-long activities as a seamstress. She started sewing her own clothes and then for other people as well. She even sewed dresses for her daughters' weddings.
If you visit Irene's home you will notice two large glass display cases, filled with spoon collectibles. "They may not have much monetary value, but they are treasured mementos" of her trips to 49 of the 50 states. There is only one state without a spoon, and that is the state of Florida. No particular reason, just hasn't been there.
Her travels have taken her far beyond the boundaries of our country. Irene has experienced and prayed in many Catholic religious sites around the world. Last year she was in Fatima, Portugal, where Our Lady of Fatima or Our Lady of the Rosary appeared to three little children on the 17th day of six consecutive months in 1917. She has journeyed to Lourdes and Vatican City in Italy. She also visited Ireland and Germany with Fr. Kruse as their guide. She was profoundly struck by the "dancing sun" she witnessed at Conyers Farm in Atlantic, GA, where the Blessed Virgin appeared on the 13th of every month. In 2005 she traveled to Medjugorie (which means between the mountains) located in what is today Bosnia-Hercegovina (the former Yugoslavia) where Our Lady has been appearing daily to six visionaries for the past 28 years. She "loves to travel by plane." Yes, Irene has truly been a religious pilgrim over the years.
Irene enjoyed the years she worked at the Brandeis store in downtown Omaha because of the socializing with her co-workers. She also worked at the family-owned independent insurance agency many years beyond the usual age of retirement. It was because she "loved the people" and "enjoyed dealing with the public" that she continued to show up for work.
Irene is active with the Serra Club in Council Bluffs. She serves as a "spiritual mother" to seminarians, praying for them all summer long. The Serra Club serves the seminarians a special dinner and ice cream social each year. Irene said she had the "greatest time making the homemade sausages for the dinner" with her fellow Serra Club members. She also belongs to CCW at Queen of Apostles, working and providing for funerals. She was a member of Catholic Daughters years ago, returning to membership after her retirement. She enjoys helping with CDA events and is an active member of our court.
Irene always has a smile for a CDA sister. We are proud of this Catholic Christian member of our court and we thank her for her dedication, caring, dependability and the good humor she brings to our meetings.
"A highway will be there called the holy way; …It is for those with a journey to make, and on it the redeemed will walk." Isaiah 35:8-9