Membership Spotlight on Mary Martin                  By Carol Hollenbeck & Mary's Friends
Member Court St. Jude #2053 Scottsbluff, NE 4-22-1986 to 4-2004
Member Court St. Anthony #330 Council Bluffs, IA since 5-9-2005 – 35 Years a Catholic Daughter!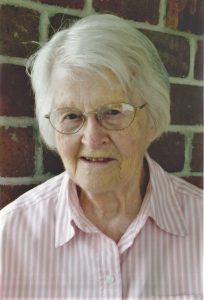 Mary Edith (Grote) Martin came to us as a transfer, from a sister court in Nebraska where she spent 18 years. She was an active member there, who started one of the current money makers for Court St. Jude #2053 in Scottsbluff, NE. Jeanette Fitzgerald, who was one of her CDA sisters there, tells us the following story:
"Mary had the idea of selling religious articles to the members of St. Agnes Parish. With this project
she volunteered to order the items, set them up and sell them, with the help of fellow members of the
Catholic Daughters.  Mary felt it was important to make money to pay for expenses, but more
importantly to contribute to the many charities which were held dear by the Catholic Daughters."
*Continue reading and you will hear more from Jeanette Fitzgerald and also enjoy the touching memories and photos shared with us by Lucille Koenig, another of her friends and CDA Sisters from those Scottsbluff days.
Mary turned 100 years of age on February 15, 2021. That means she was born in the winter of 1921, just after our Court #330 being chartered on October 31, 1920. When I contacted JoAnn Nash, current Regent of Court St. Jude #2053, she told me it was sad that one of their older members had just passed away recently. She had been considered the best historian of their court, because she was 107 years of age! I told her that there must be "something in the water there in Scottsbluff, NE!" All the years I have been sending Birthday and Anniversary greetings to Mary Martin from Court #330, I had no idea of her age. The attendant at the Retirement Center in Omaha, tells me that Mary "has a great memory." She has a landline in her room. What a blessing that is for her, and for us!
Recently, our court member Mary Alice Wickham, had a phone conversation with Mary Martin. Mary Alice tells me that Mary grew up on a farm outside Neola, Iowa and that she graduated from St. Joseph Catholic School there. There were twelve in her class and they were taught by the Humility Sisters of Ottumwa, IA. (Mary Martin's husband Tom's brother married Mary Alice's aunt; they have a connection.)
I spoke with Mary on the phone on June 4, 2021. She had just returned from a family birthday party in Council Bluffs. Three of her children were there celebrating with her. This centenarian continues to have a busy life. I'm sure her life has always been busy, because Mary and her husband Tom had ten children; three girls and seven boys! Mary told me that her husband said they were a "seven, seven, seven family." They had seven boys, her husband was one of seven boys and his Grandfather had seven boys. She chuckled and said, "It may not be true about the grandfather!" But we agreed it is a great story and that there are a lot of boys in the generations. She is fortunate to have three of her ten children in the area to visit with her and take her places in 2021.
*As promised, the following memories and photos were shared with me by her friends in Scottsbluff. I will be sending our Court #330 Newsletter to them and I will deliver a printed copy to Mary, so all can ENJOY!
A message from longtime friend and member of St. Jude Court #2053 of Scottsbluff, NE, Lucille Koenig……
"Mary Martin was a faithful member of Catholic Daughters and I think she held most of the offices. She was a proud mother of her large family.
Mary and Tom always came to Mass dressed for the occasion like we used to, and sometimes Mary wore a hat to match her outfit. It was always good to see them in a front pew together.
One of her interests was playing bridge. I don't know if she belonged to a club but I do know she played in tournaments with some of the best in town. Mary and a friend tried to teach Eve Merrigan and I, but one of the ladies bailed out, so Eve and I did too. I guess we were on the "pitch" card playing level!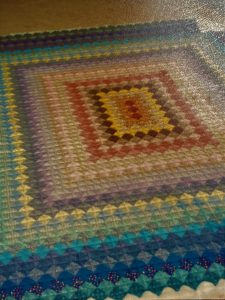 Quilting was a passion with her. She knew how to put a quilt together, what supplies she needed and what colors looked good together. I don't think I was ever at her house without seeing a quilt in the process of being made. Quilting with her was fun because we could visit too and learn from each other.
The photo is of the "Around the World" quilt that was pieced together by Mary Martin. We put it together starting March 30, 1990 and finished June 7, 1990. Mary donated it to the Altar Society and it was raffled off at the Fall Bazaar. The other photo is Mary, in her home, at work on this quilt."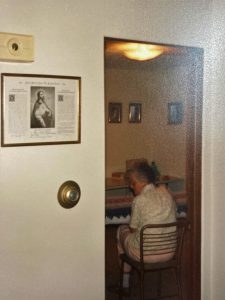 Mary and her husband Tom were married on April 23, 1941. The photo is of the couple, seated, celebrating their 50th Wedding Anniversary in 1991 in their parish. Also pictured are Theresa Rezak (white hair) and Jan Shetler, both are parishioners who are still at the St. Agnes Parish. Mary's daughters created a lovely family tree quilt to mark the event.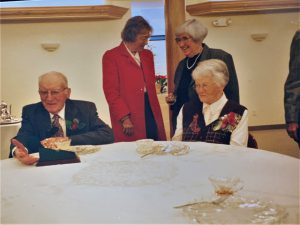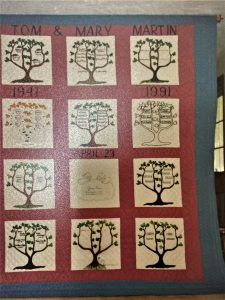 More memories from St. Jude Court #2053 by Jeanette Fitzgerald…….
"Mary worked on our first real money-making project which was the Crop Protection Clinic, held every January, that usually included 75-100 men. Mary co-chaired with her daughter Betty Benson the selling of Christmas greenery in November.
Mary was the energy in Court St. Jude. Her dedication and quick wit always made her so enjoyable to work with.
She always had many other members willing to work on all the projects. Not only was she busy with Catholic Daughters, she was also incredibly involved with St. Agnes Altar Society.
Mary Martin was a true leader and a service minded individual. She was greatly missed after she and her husband Tom
moved to the eastern end of the state in 2004."
"Think about Him in all your ways, and He will guide you on the right paths." Proverbs 3:6